Thomas Scannell
My child is starting secondary school and I am scared…..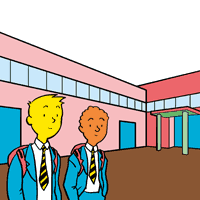 It's the end of another school year, but this year is different… this is the last time your child will walk through the school gates of their primary school, marking an end of an era.
An end to the relationships you have built with the school and with other parents over the last 6 years, and the crazy thing is that your even more worried about this transition in your child's life than they seem to be!
The next chapter in your child's life brings a number of monumental changes, and if you follow the newspapers you will believe you're throwing them into a boiling pot of gangs, sex and drugs. The fact is, we were all children once and made this same transition.
I'm not going to say it's going to be plain sailing, but what I'm hoping to do is offer some small tips that will help make this transition a little easier for yourself and your child.
Start looking early! As your child nears the end of Year 5, start doing your research on schools in your area, not only based on their Ofsted inspection, but their admissions criteria and important dates for you to remember e.g. exams or open days.
You will be putting your child's future in the hands of the school you pick, so don't feel you have choose the closest one to you either.
Picking a school can be a difficult decision, as on paper, most of them look the same! With so many open days and visits to fit around you already hectic life, here are my tips to try get you through the process a little easier.
As much as it's your decision where your child will go to school, you should allow your child to have an opinion too, make time to talk to your child, and find out what they want from their new school and what schools they like.
Your child may have different reasons for picking a school and it is important to discuss these together.Start looking early! As your child nears the end of Year 5, start doing your research on schools in your area, not only based on their Ofsted inspection, but their admissions criteria and important dates for you to remember e.g. exams or open days.Ask other parents (as the may have older children) or the primary school teachers what they think about different schools, as they have seen children move on to high school every year.Take multiple visits to the schools and don't just leave it until Year 6 either, start early! Go in Year 5, this will allow you to see developments and changes within the schools.Before you go to an open day, make sure you know what you and your child want from a school.
Make a pros and cons list, this will help you make a more sensible, informed decision.Make sure you get your child's application form in on time, some Local Education Authorities (LEAs) prefer these sent via the internet — ask at your primary school or local library if you need help.
Don't pin all your hopes on entry into one chosen school. Try to have at least one second choice, that you'll both be happy with to avoid the disappointment of missing out.
It is possible to appeal against the decision! If your child doesn't get their chosen place, please see the appeals section.
Planning the Journey to School
It may be a good idea to start letting your child take themselves to school during the final year of primary school. I'd personally start allowing them to do it during summer term when the sun rises early and sets late. You may also want to talk to other Year 6 parents, and see if they could all meet up, and go to school together (as there is safety in numbers). Also once you have an idea of what school you want your child to go to, you may want to travel the route with them a few times during the summer holidays, just to make sure you both know distance and time frames.
You may also wish to try these ideas:
TFL provides FREE transport on buses and trams, so be sure to apply for an oyster card in good time as there can be a backlog over summer. This will also give your child a different type of responsibility.Make sure your child always has 'money' in case they forget or lose their pass, and is in need of alternative transport or has to phone for help.
You could also provide them with a pre-paid card such as Go Henry, these child-friendly bank cards can be controlled by an app on your phone.If your lucky enough to have a friend moving to the same school as your child, encourage them to travel together or find a new friend that travels the same way as them to school.
Getting Ready for Secondary School
All schools now have an open day for parents and children to attend, make sure you attend these, as they will help you and your child become more familiar with the school and meet new pupils and parents.
Don't wait till the last minute to get the school uniform, beat the queues by shopping at the start of summer. You could also spread the cost of the uniform over months, rather than a large sum all at once, just before they go back to school. It may be possible to get help with the cost, contact the school or the LEA to find out.Have conversations with your child about how they feel about moving schools, they may be feeling as nervous as you but don't want to show it, take time to listen and reassure them that all children feel this way.Visit your LEA's website for details on assistance such as free school meals, if your child is eligible, make sure you apply in good time.
Safety at School
Bullying has taken many faces for this new generation, it can happen face-to-face or online, it may happen on or off school premises, or on the way to and from school. Make sure your child understands that they should speak to an adult if they feel it is happening to them.
Children sometimes find it hard to talk about subjects like bullying, but there are signs to look for, that may suggest there is a problem, for more information please visit Bullying UK to access further advice.
Don't Feel Isolated
Secondary school can leave a parent feeling isolated and out of touch, because parents no longer seem involved in the day to day running of their child's life at school.
It may help to:
To keep updated about school events and attend as many as you can you can, do this by regularly checking the school website.Contact the PTA (Parent Teacher Association)Talk to your child's form tutor about any problemsKeep the school updated about any changes at home, such as parental separation. Where relevant, make sure the school also contacts the non-resident parent.
Settling into Secondary School
Your child will now be expected to take more responsibility of their own lives at secondary school, this will including knowing their timetable, bringing correct equipment and travelling to and from school. You can help them do this at home with the following tips:
Get your child to prepare for the next day the night before, this will avoid any morning stress and unwanted school detentions. Remind them to check their timetable for the following day, pack their bag and lay out their uniform if necessary.
Start letting your child take the lead and allow them to manage their own time, if you keep doing everything for your child they won't make the mistakes they need in order for them to learn.Your children are getting older and may want more privacy, allow them more space and freedom to express themselves.
Keep an eye on your child schedule, make sure you help keep them up to date with their homework and talk with them if they are finding things difficult.Keep in contact with the school — this may be more difficult now that classes are bigger and your child has many different subject teachers.
However, if the school has a website, be sure to check regularly for information updates and news.Make time to talk and listen to your child, giving them attention will help your child feel supported and more confident.
I hope these tips help you and your child have an easier transition period. All in all, things will work themselves out, just make sure you are there for your child when they need you.
Please feel free to contact me if you need to discuss anything!
T.A. Scannell